SmartTools
SmartFFmpeg
English
SmartCPUStress
SmartCapture
StayAwake
TouchVolume
Sprachentrainer
cPOS Skin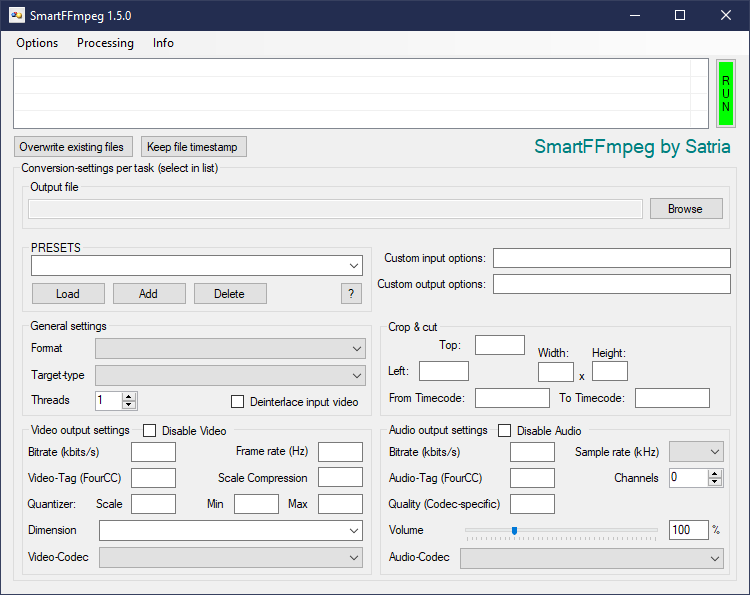 This is my GUI for the powerful, open source multimedia-converter ffmpeg, which supports a variety of audio, video and container formats!
As a console application ffmpeg exclusively works with a huge number of parameters and you don't even know the most important ones off by heart. Even if you do, it is a rocky road to do your conversions manually or via BAT files. A long and unconfortable procedure.
That's why I created SmartFFmpeg! A GUI, that lets you configure most of the important parameters visually and furthermore provides batch processing to enable you to convert multiple files in a row with the same or individual settings. Each task applies the current settings when being added and can be given different ones afterwards.
A key feature of SmartFFmpeg is the preset-management. Presets let you store conbinations of parameters for certain conversion jobs like
extract the audio-track of any video
audio-only conversion to MP3
convert videos for mobile devices, PSP, iPod, cellphone...
and much more
Looking up parameters is history now, they stand by to be selected by you!

Features:
Internet-update-check on startup!
Well structured GUI, all settings at a glance
Drag&drop support for adding files
Generalisation by applying current settings to each task when it is added
Individualisation by offering separate settings per task (select from file list)
Pre-defined, extensible presets, that store all settings for frequent conversion jobs
Extensibility of the selectable ListBox-values via text-files (e.g. add custom resolutions etc.)
Extensibility of the conversion settings by any ffmpeg parameter into free input- and output-text fields
Preconfiguration of output-filename
Preconfiguration of output-file extension
Selectable process-priority for ffmpeg.exe
Concatenation support: When a folder is added, all files inside of it are joined together into the output file.
Predefined presets:
Audio/Video-conversion to H.264 (MP4)
Audio/Video-conversion to AVI (XviD+MP3)
Audio/Video-conversion to PSP-MP4
Audio/Video-conversion to MPEG2
Audio/Video-conversion to WEBM (VP8+Vorbis)
Audio/Video-conversion to Flash-Video (FLV)
Audio-conversion to MP3
Audio-conversion to AC3 (5.1)
Audio-conversion to WAV (s16le)
Extraction of several audio-tracks (AAC, AC3, MP3, ...)
... and more
Requirements:
Microsoft .NET Framework 3.5
ffmpeg builds on videohelp.com (Recommended version: 5.0. App and some presets have been tested with this version.)
(unpack to a folder and select ffmpeg.exe in the SmartFFmpeg options-menu)
(Current version: 1.6.1)
Download (.7z)
(No installation required! Simply start from desired folder. The INI-files for settings and presets are always expected in this folder!)";